If you know bourbon, you likely know at least one important fact: that it needs to be aged in new oak barrels, and those barrels need to be charred. While some distillers can get experimental and have tried to char their barrels for upwards of three minutes, char mainly hits four levels, ranging from 15 to 55 seconds burning the barrel. Each char level imparts a unique taste into the spirit, bringing in more flavor and a deeper color from the wood.

Level 1 char (15-second burn)
One step above a heavy toast, Level 1 chars (and Level 2 as well) are ideal for quick-aging bourbon. Level 1 doesn't impart nearly as much woodiness into the alcohol as higher chars, but still gets some flavor from the barrel. Level 1 is mostly used for home distilling. A bourbon connoisseur would be hard-pressed to find a distillery using a Level 1 char, but Michter's Distillery comes close, offering a bourbon finished in a toasted (but not charred) barrel. The final product has a hint of sweetness and campfire notes.
Michter's Frank Lloyd Wright (Bourbon and Branch)
2 oz Michters Toasted Barrel Finish Bourbon
.5 oz Rothman & Winter Pear liqueur
1 barspoon peated scotch
1 barspoon Nocino
2 dashes old fashioned bitters
Level 2 char (30-second burn)
Level 2 char is also relatively hard to find among distilleries, and the flavor profile is much different from heavier charred barrels. The strong caramel tones of higher levels don't overpower at this char. There's a more pronounced sweetness that distilleries like Deerhammer use to their advantage; by toasting their barrels before the char, it adds vanilla, coffee, and spiciness to each finished spirit.
Deerhammer's Boulevardier
1.5 oz Deerhammer American Single Malt
1 oz dollin sweet vermouth
1 oz Gran Classico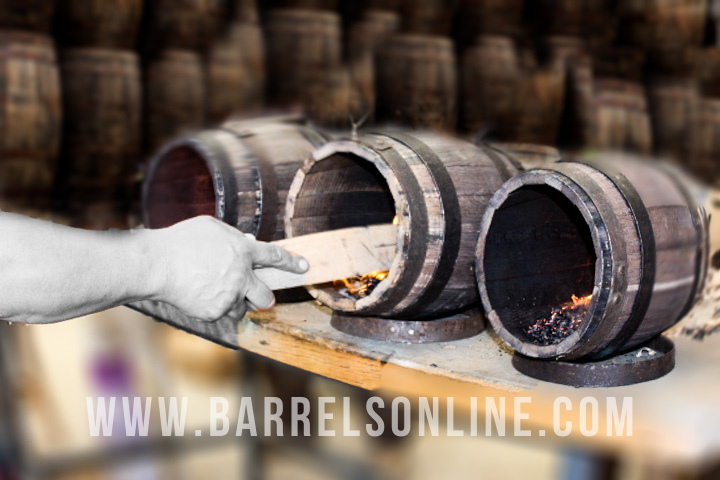 Level 3 char (35-second burn)
Levels 3 and 4 char are the most common for American bourbons and whiskeys. As the spirits are aged in these higher-level chars, the alcohol develops a more earthy and spicy flavor. Level 3 often has more of a natural wood taste and scent, while the longer chars introduce a deeper color, vanilla tones, and caramelization. Angel's Envy uses a standard Level 3 char on its barrels.
Angel's Envy Winged Lion
2 oz Angel's Envy Port Finished Bourbon
½ oz Ancho Reyes Liqueur
½ oz Fresh Lemon Juice
¼ oz Demerara Syrup
4 dashes of Angostura Bitters
Level 4 char (55-second burn)
This char level is also called Alligator Char. After 55 seconds of fire, the barrel begins to crack and peel in a rough, shiny pattern that looks like alligator skin. Wild Turkey uses this char level to give a deep color and spicy flavor profile to its bourbon.
"We use the deepest No. 4 'alligator' char in order to extract as much flavor as possible from the wood," master distiller Eddie Russell said. "When charring at this level, the wood starts to peel off the barrel, which gives the liquid more surface area to come in contact with, thus infusing it with more flavor. This offers a surprising amount of variation. On one side you get a subtle vanilla palate from the wood, but by using a No. 4 char, you're also adding a smoky, char flavor, that contrasts nicely with the sweeter notes."
Wild Turkey's Old Fashioned
2 parts Wild Turkey 101 Bourbon
.25 parts simple syrup
2 dashes Angostura bitters
1 orange peel
Original text by Jennifer Billock. Tales of The Cocktail Foundation.